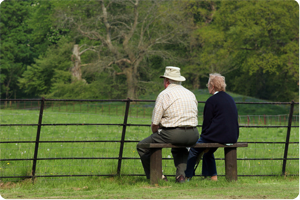 From then to now…
In the latter half of the 1980′s two local nurses observed, in the midst of their daily rounds, that the broad spectrum of needs of patients dealing with end stages of life threatening disease were not being met.
While the medical community managed the patients' physical care, patients and their families found a void of resources and support for the fuller range of issues they faced. They began offering patients and families a more holistic form of nursing grounded in the hospice philosophy of care and comfort. These two nurses, a small board of directors and an annual budget of less than $100.00, were the grassroots beginning of Hospice of Somerset County.
This Board of Directors, however, soon recognized the growing demand for hospice services in the primarily rural region of Maine. With the award of a grant, the Board hired its first paid Director and in January of 1993 a volunteer training course began. Five weeks later the first knock came on the door of the HVSC office asking for hospice services.
From these rather humble beginnings, Hospice Volunteers has grown into an agency that the communities of Somerset county have come to depend on for quality end-of-life care and support services.
Over the years, more than 200 volunteers have been trained and hundreds of patients and families have been served. In the process, thousands of volunteer hours and miles have been logged as volunteers travel with those who are nearing the end of their life journey. We've seen the creation of the bereavement program that has provided individual and group grief support.
When one drives by the Memorial Garden at Coburn Park in Skowhegan in the summer or sees the Lights to Remember Trees lit during December and January in Skowhegan one is very aware of the positive presence of Hospice Volunteers of Somerset County.
Over the years, as changes have taken place in the medical system, we have seen many changes at HVSC. Yet one thing has remained constant throughout and is expected to continue well into the future, and that is the love and compassion that hospice volunteers bring to the patients and their families of Somerset County.